Welcome to the fabCat FAQ with myKotty!
Do you have any questions/doubts about our products, brand or shopping in our online store? Check out our frequently asked questions and if you don't find the answer you're looking for, hit us up on social media or e-mail mykotty@mykotty.pl
1. HOW TO LET A CAT ENJOY THEIR MYKOTTY SCRATCHER FOR AS LONG AS POSSIBLE? 
To make sure that LUI, VIGO and TOBI last under your cats' paws as long as possible, make sure you can eliminate those potentially risky factors:
- avoid contact with fire, water, dampness and chemicals, 
- always put the scratchers on a stable ground, 
- our scratchers work best when they're solo - don't stand one on top of the other and don't put the VIGO scratcher inside the LUI.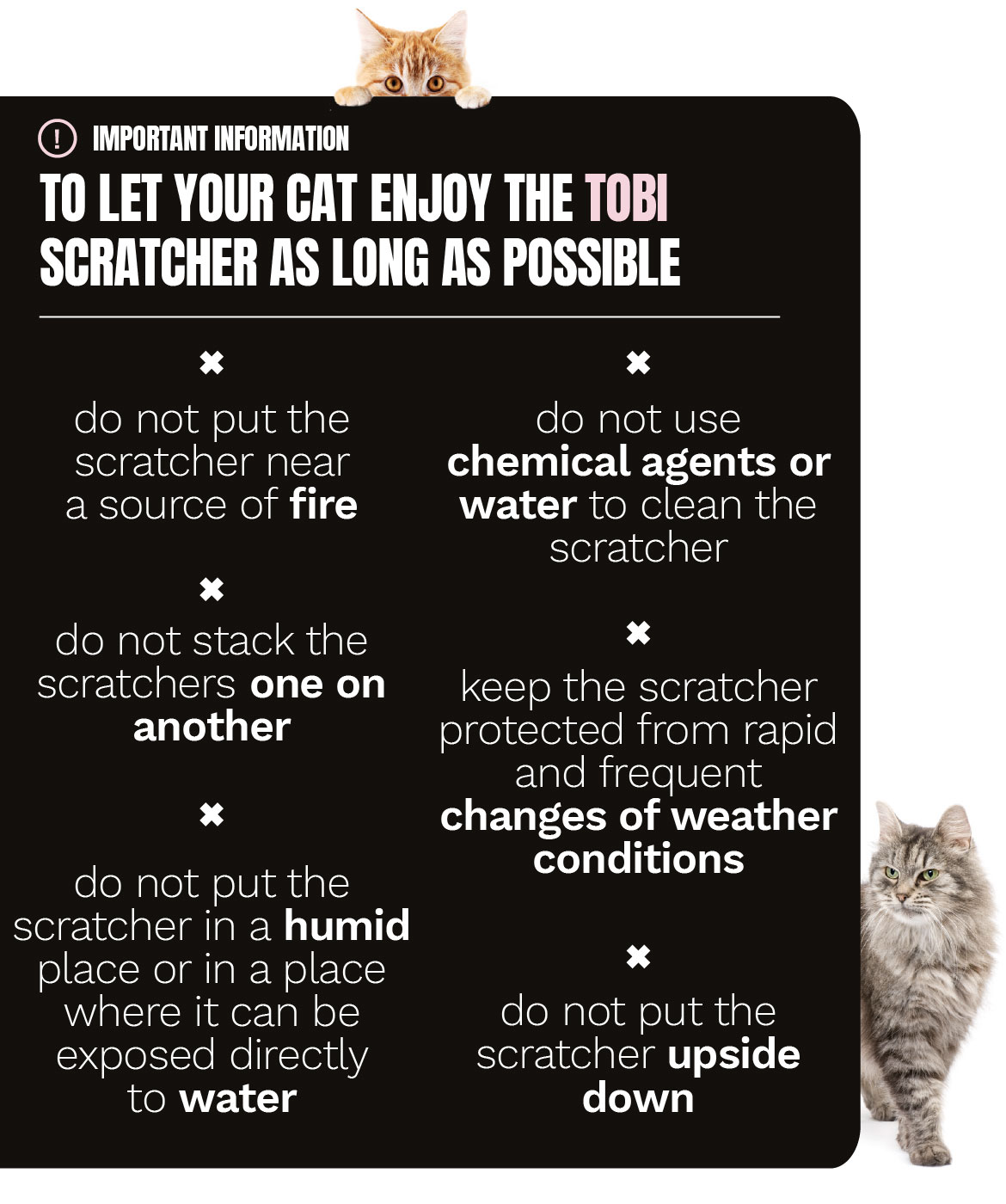 2. HOW TO WASH MYKOTTY CAT BEDS AND PILLOWCASES
Stains on your cat bed? No worries! Both the pillowcases and the pillows themselves can be washed as long as you follow the instructions - use low temperature, gentle washing products and air drying (the pillow can be put on low speed into a tumble dryer). 
3. PAYMENT METHODS ON MYKOTTY.EU
You can pay for myKotty products in our online store using:  
- by a bank transfer to the bank account number PL 27 1140 2004 0000 3212 0751 7859, BIC/SWIFT BREXPLPWMBK,
- using credit cards VISA, MasterCard - the credit card is charged at the time of making the payment,
- via PayPal through our online payment page - debit or credit cards (Maestro, VISA, MasterCard, American Express, Discover) - the credit card is charged at the time of making the payment,
4. MYKOTTY RETURNS
At myKotty, you have a guaranteed right to return within 100 days from the day of purchase and, what's important - without unnecessary questions and complications. All the formalities are on our part, we organize the courier and pay for them.  The full returns terms and conditions are available here:  Pełen regulamin zwrotów znajdziesz pod linkiem: https://mykotty.eu/Returns-cterms-eng-112.html
5. HOW QUICKLY DO MYKOTTY SCRATCHERS GET USED UP?
The lifespan of myKotty scratchers depends on a few factors, including: the number of cats using it, the intensity and style of scratching, as well as the cat having their claws trimmed or not. The LUI and VIGO scratchers are double-sided, for double the joy of scratching and they should hold up for 6-12 months, but we've had feedback from many fabCats saying our scratchers lasted them much longer! You can find more on the longevity of corrugated cardboard scratchers on our blog: https://blog.mykotty.pl/en/2019/10/15/the-service-life-of-a-cardboard-scratcher/
6. CAN I ORDER A PERSONALIZED SCRATCHER/CAT BED?  
Unfortunately, we don't offer the option of personalising our products. The scratchers are available in 4 colorways and cat beds and pillowcases in 6 classic colors that fit purrfectly with the style and minimalism that myKotty loves.
7. CZY DRAPAK MYKOTTY UDŹWIGNIE MOJEGO KOTA?
It obviously depends on the weight and energy of the cat user and the scratcher type!  
- The VIGO scratcher holds up to 90 kg of weight, 
- The LUI scratcher can carry up to 15 kg of weight, 
- The TOBI scratcher is able to carry up to 10 kg weight. 
It's good to notice that with the LUI scratcher, because of its empty space inside, cats jumping on top of it from up high or cat Carers accidentally leaning on it can cause damage to the structure even if the weight is lower than the max. limit.
8. CO ZROBIĆ KIEDY KOT NIE JEST ZAINTERESOWANY NOWYM PRODUKTEM?
It's a rare occurrence but, of course, cats can be unpredictable and turn their whiskers up before they get used to a new scratcher, a cat bed or a toy. We have a few tips for you that can speed things up:  
- Experiment: put the scratcher or a cat bed where your cat spends most of their time and if there's still no interest from them - don't be afraid to put the furniture somewhere else. 
- Break the ice: if your cat needs gentle encouragement, use their favorite toy or snacks to get them to come to the scratcher or a cat bed.  
- Go for natural scent enhancement. Catnip, valerian, or maybe silver vine root? Combined with the natural scent of corrugated cardboard, it will get every cat interested. 
Remember - patience is key and so is giving the cat some time and space to get to know the new thing. More ideas on how to encourage a cat to use new products can be found on our blog: https://blog.mykotty.pl/en/2021/04/12/fabcatstic-faq-getting-the-kitties-used-to-new-cat-beds-scratchers-and-cat-accessories/
9. HOW TO ASSEMBLE THE MIA CAT HOUSE? 
No worries - though the MIA structure looks impressive, assembling it doesn't require master origami skills.  THE INSTRUCTIONS on how to assemble the cat house that we include inside the box and below is the key to success. 
How to tell if you assembled the house correctly? If you've been working with the instruction step by step - you're already halfway there. The other telltale sign is how the house looks at the end: if the cat ear printed around the entrance is pointing up - you're a building genius! If the ear is skewing to the sides or down - know that something's wrong.
More hints on how to assemble the MIA cat house are here: 
10. CAN THE MIA CAT HOUSE HANDLE MY CAT? 
We designed the MIA so that it is not only a fantastic hideout for your cat, but also a purrfect vantage point with a lookout patio on the roof. If you assemble the house right and put the included cardboard mat inside (as it strengthens the entire construction), the maximum weight the MIA can take on its roof is up to 15 kg.
Whether it's a kitten or a full-grown domestic tiger - the MIA was made with comfort in mind, regardless of the feline's size :)
11. WILL MY CAT FIT INSIDE THE MIA CAT HOUSE? 
No problem! The inside of MIA is spacious so that every cat can easily stretch out or curl up inside and practice cat yoga there. For smaller cats, MIA can fit even two feline friends easily.
12. WHAT TO DO IF I ASSEMBLED THE MIA INCORRECTLY? 
If you notice that something went wrong with the MIA assembly and the cat-supervisor assesses it as a "RISK OF COLLAPSE⚠️ " in the documents, trace the numbers of the locks carefully and try to find your mistake. 
The joints of the MIA cat house were designed to fit snugly in their designed openings, but if you try to disconnect them gently, you have a chance to correct your mistake or even disassemble the entire cat house :)
13. DOES THE SCRATCHER FRAY AS ITS USED BY A CAT?
All myKotty scratchers are made with high quality corrugated cardboard put together in a way that limits the amount of cardboard confetti to minimum. We must say, however, that cardboard is a material that does naturally frey when it meets cats' sharp claws and the signs of scratching will be visible on the soft surface even after the first use. It's totally normal :)
Our TIP? Remember to tidy up your scratchers regularly - hoovering will let you remove any loose parts of the cardboard, but it will also smooth the surface of the scratcher and guarantee it looks good for longer. 
14. WHAT TO DO WHEN CATS COMPETE FOR A SPOT ON A SCRATCHER OR A CAT BED? 
When a scratcher or a cat bed are as comfy as myKotty furniture, every cat would love to have the exclusive rights to use them. If your furry friends are competing for a spot on a cat bed or a scratcher, the best solution is to give each of them their own piece. 
Giving cats who share a common space an appropriate number of resources (like scratchers, cat beds, litter boxes, bowls or toys) is the basic element recommended by behaviorists - when cats have nothing to fight about, they get along much better. 
15. WHAT WILL HAPPEN IF MY CAT EATS SOME OF THE CARDBOARD OF THE LUI, VIGO OR TOBI SCRATCHER OR THE MIA CAT HOUSE? 
All myKotty scratchers are made with natural corrugated cardboard and the MIA cat house is created with Kraftliner cardboard made with 100% unbleached fibers from conifers. Paper, though it's not a basic element of a feline diet, it's not harmful to them (if consumed in moderation). If your cats have an inclination to nibble on their scratchers and hides, a little cardboard eaten in the process shouldn't be a problem. 
All our scratchers are glued together using certified glue that's safe for contact with food - safe for people and animals. The MIA cat house doesn't use glue at all, which is why nibbling on it by a vampire cat is completely safe.
16. IS CARDBOARD USED IN SCRATCHERS SAFE FOR CATS? 
Definitely! When the cat safety is at stake, we don't compromise. Creating our scratchers, we only choose the best quality corrugated cardboard from safe, confirmed, local sources. The cardboard is unbleached, free of harmful substances and the glue we use to keep it together is attested for food contact. Because of that, our scratchers are safe for cats when they scratch it, rub against it or bite it.
17. ARE THE PRINTS ON EMI, OTI AND PADI CAT BEDS AND ON THE KUNG-FU CAT TOY SAFE FOR CATS?
Creating the prints on myKotty products, we use paints that are attested to be safe for children. All our cat beds and the KungFu cat toy are fully safe for cats and people and they withstand washing and rubbing, even with intensive use.
18. WHAT HERBS ARE INSIDE THE KUNG-FU CAT TOY?  
According to cats who had the chance to test out KungFu - the herbs we put inside it are the best stuff in town :) To fill the KungFu cat toy we use only natural, non-addictive herbs: catnip and valerian that have a strong and energizing or calming scent - the reaction depends on the individual preferences of your cat. 
19. WHAT TO DO IF MY CAT STOPS REACTING TO THE HERBS INSIDE THE KUNG-FU CAT TOY? 
Don't know what to do? Take a break! Though catnip and valerian are not addictive for cats, using them too often can cause cats to lose their interest in it. We recommend hiding the toy in its airtight, original packaging after every playtime to keep it safe and prolong its scent, as well as not using it during every single playtime - let the KungFu be a treat, not an everyday thing.
20. WHY DOES A CAT NEED A SCRATCHER?
Scratching is a natural cat behavior for both domesticated and wild cats. Through scratching they are able to destress and move every muscle in their bodies, but also leave their scent marks around their entire territory. If your house doesn't have any dedicated scratching spots, your furniture will become the next victim of your cats' scratching endeavors. When we created myKotty scratchers we had one thing in mind - to save as many couches, armchairs and carpets of our fabCats as we can :) 
21. WHY DOES A CAT NEED A CARDBOARD HOUSE? 
Every cat needs a space they can feel 100% safe in. Their own place where they can hide from the world and nap, but also escape if needed. The MIA cat house made with Kraftliner cardboard, with an extra corrugated cardboard mat inside ticks all the boxes on the purrfect hideout list - it's spacious, with two entrances, a roof that can also serve as a patio and a comfy mat that gives a cat a cozy and warm place to sleep on.
22. WHY DOES A CAT NEED A CAT BED? 
Naps are a ritual that's basic to cats' nature - regardless of the circumstances, cat will always find a place for it in their daily schedule. And though you can sleep anywhere: in the middle of the floor, on the couch, your office chair, the desk, the window sill or even in a carrier, a dedicated cat bed is on a whole new level of comfort. MyKotty cat beds are soft, comfy and big to give your cats full freedom of movement and stretching. The cover, made with 100% cotton is also the best cat fur magnet - when your cat sleeps in their bed, the amount of loose fur flying around your house gets significantly smaller.
23. HOW WE PACK OUR SCRATCHERS? 
Safely and eco-friendly - that's the mix 1000% myKotty style. All our scratchers are wrapped with a layer of protective cardboard (which you can use for your cats to play and scratch) and then tightly put into a cardboard box so that they don't move during shipment. Our cardboard boxes are solid which prevents the scratcher from getting beaten up in transport and when it arrives at your home, the box can serve as a cat hideout - we know from experience that no cat can resist it.
24. HOW WE PACK OUR CAT BEDS? 
To pack our cat beds, we use plastic wrap that protects the bed from getting dirty and damaged during shipping, as well as a sturdy cardboard box with myKotty logo. Because of the size of our cat beds, the boxes are big - purrfect to reuse as a cat hideout. 
25. HOW WE PACK THE KUNG-FU CAT TOY? 
To keep the herbs inside the KungFu cat toy fresh, we pack it all up in an airtight packaging with a zip that allows to reuse the packaging all the time. Open up the bag carefully to not damage the zip - you can use the packaging to keep your KungFu in between play sessions with your cat, keeping the catnip and valerian scent strong for longer. 
26. HOW WE PACK OUR GADGETS FOR HOOMANS: BAGS, SOCKS?
Each pair of mySocks is packaged separately and travels to you in a practical doypack packaging which protects the socks in the warehouse and during shipping - we don't want you to open them up and see holes! :) 
The CATWALK tote bag comes in classic, plastic envelopes - we choose minimalism and this type of packaging protects the fabric from getting dirty or destroyed in transport.
27. WHERE TO THROW AWAY AN OLD SCRATCHER? 
MyKotty scratchers are made with the highest quality, natural corrugated cardboard but although our cardboard isn't bleached or colored and we don't use any dangerous chemicals, the individual layers are glued together - the glue is safe for the environment, but doesn't allow the scratcher to be treated as a paper waste. A used up myKotty scratcher should go to the mixed municipal waste bins, according to the laws of waste management in your local area. 
The cardboard boxes our scratchers come in, as well as the cardboard sheet they're wrapped in can be easily thrown away into the paper waste bins ♻️ , that is, of course, if your cat gives them up without a fight :) 
The full table of waste management classification is available here: https://blog.mykotty.pl/wp-content/uploads/2020/06/Waste-classification-Arkusz1.pdf 
28. WHERE TO THROW AN OLD CAT BED?
Our cat beds are made with natural cotton and the pillows are filled with a synthetic filling  and made to last with your cat as long as possible. However, if after a few years of use you decide to throw the cat bed away, both the pillow and the cover should go to mixed municipal waste bins, according to the laws of waste management in your local area.
29. WHERE TO THROW AWAY THE MIA CAT HOUSE? 
The MIA cat house is one of the products that leads the way for myKotty into the world of ecological solutions. Its entire build is based on high quality Kraftliner cardboard made with 100% unbleached fibers from conifers. We don't use any glue for MIA, which is why the cat house can be entirely recycled and safely put into the paper bin - we recommend disassembling it first to take up as little space as possible.
30. WHERE TO THROW AWAY THE KUNG-FU CAT TOY?
The KungFu cat toy is made with cotton, with a synthetic filling, leather straps and a blend of herbs - catnip and valerian. Though the dried herbs could go into the bio waste, the rest of the toy should be thrown away into the mixed municipal waste. 
31. WHERE TO THROW AWAY THE HOOMAN ACCESSORIES - BAGS AND SOCKS? 
According to the laws of waste management in your local area (we're speaking for Poland here, so always check your local rulings on it), any gadgets that are made with synthetic or natural fibers (including cotton, elastan, or polyamide that we use in our socks and bags) should go into the mixed municipal waste.
32. WHY IS THE KUNG-FU CAT TOY PACKED IN AN AIRTIGHT BAG?  
It's simple - when we pack the toy with the herbs that cats rate as the best stuff in town, our goal is to protect their incredible aroma for longer. An airtight bag with a ziplock that allows it to be opened and closed repeatedly gives you the chance to keep the toy in the bag at all times and take it out for when you're playing with the cat, all to save the energizing qualities of the herbs for longer.
33. HOW TO CLEAN AND DISINFECT MYKOTTY SCRATCHERS?  
Corrugated cardboard is a material that doesn't do well in damp environment. Because of that it's much harder to disinfect than standard, sisal rope scratchers. You can wipe the fronts of the scratchers with a cloth soaked with a cat-safe disinfectant product, but when something happens to the surface of the scratcher, the matter is not as simple. Our tried and true solution is to dry the surface with a cloth or a sponge right after the incident and then letting it air dry fully. Any leftovers can be later removed with a dry cloth or a brush. 
We also talk about the cleaning and disinfecting process for scratchers here: https://www.facebook.com/watch/?v=4379920058763290 
34. IS IT POSSIBLE TO CHANGE THE CARDBOARD INSERT OF THE SCRATCHER ONCE IT GETS USED UP? 
All myKotty scratchers are made with multiple layers of high quality corrugated cardboard that are glued together tightly to make the scratcher sturdy and durable. The cardboard insert is not changeable, which is why the VIGO and LUI scratchers are double sided - two scratching sides give your cats twice the fun of scratching.
35. WHEN WILL THE MYKOTTY LITTER BOX BE AVAILABLE? 
Global pandemic has messed up our plans a lot, making significant delays in our production process as well as in our access to electronic parts needed to create the smart litter box. The exact date of release is to be announced so follow us on social media and don't miss any updates on the matter.
36. IS MYKOTTY AVAILABLE ON ALLEGRO? 
Sure it is! If you prefer shopping on Allegro, check out our offer on our official profile on the platform: https://allegro.pl/uzytkownik/myKotty/sklep. By doing this you can be sure that the scratchers and cat beds that get to you are legit and tick off all the myKotty quality standards.