SET Beds OTI+EMI + Pillow PADI
OTI is a modern cat bed. EMI is a foldable cat bed. PADI is a cat pillow. Cover material 100% cotton. Filling: synthetic soft fiber. Stiffened frame OTI 100% cardboard. Cover can be easily removed and washed.
In a set
Some cats spend as much as 80% of their lives sleeping,
so it is worth providing them with a comfortable bed.
The pleasure of sleep is all the greater since the cushions 
hang over the ground like a hammock.
OTI is 30cm high not without a reason - cats prefer to watch everything from above.
Nothing but to sleep all day...
OTI construction is seated on a thick, stable, cardboard frame,
so cats can feel comfortable and safe.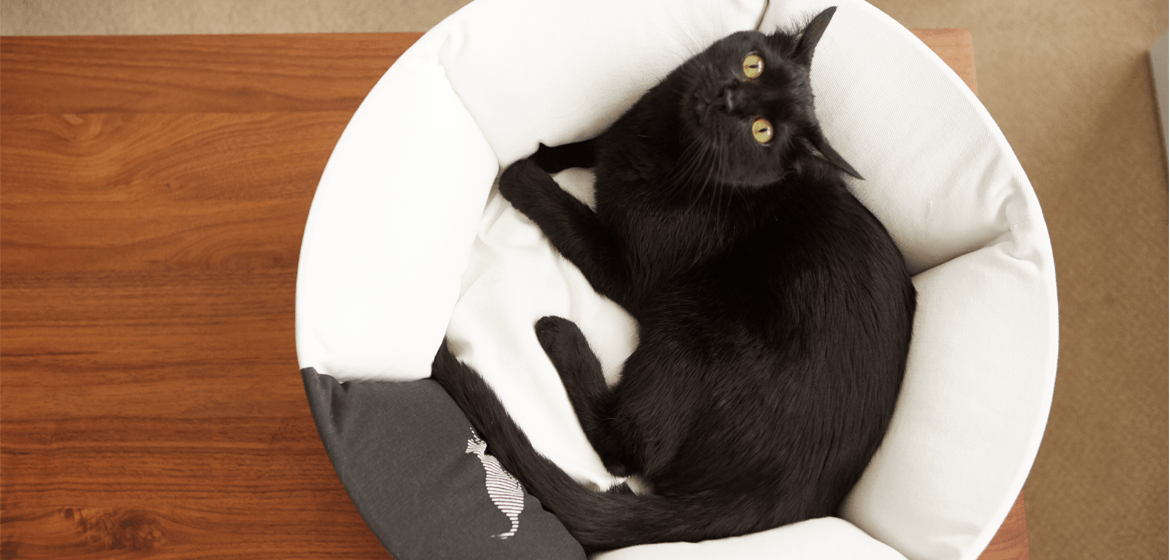 OTI oval shape was inspired by the shape of how our cats curl up while sleeping.

The center of OTI is filled with soft cushions that let the cats take
even the most extremely twisted positions.
OTI fits perfectly within any fashionable interior - we took care of it. 
OTI is a perfect example of how to successfully combine cats comfort and convenience
with the best aesthetic experience of their owners. 
From the bottom OTI cover is reinforced with two strong tapes, fastened with buckles,
that keep the pillows above the ground. 
That is why OTI always looks and works perfectly.
OTI is made from the best materials:
- the frame is 100% natural cardboard,
       - the cover material is 100% natural cotton.
DIMENSIONS
MORE INFORMATION ABOUT THE EMI BED - CLICK HERE!
The most beautiful dreams come, when you are sleeping as comfortable as if you were lying
in a cradle of a cloud. EMI is the most fluffy, soft and comfy cat bed we have ever created.
 Folded - creates a cozy and dreamy hideaway, in which a cat sinks during his sleep.
It makes him feel safe and blissfully. 
Unfolded - gives two times bigger space. Its size and convenience encourages not only for sleeping
but also to have some fun with a play buddy. 
Both ways have one thing in common: "sleeping in the clouds".
The construction of EMI gives both you and your cat choice how to use it.
Folded - is a compact piece of furniture that fits almost everywhere.
Unfolded - fits to the straight lines, i.e. next to the wall, cupboard or bed.
Lazing is one of the most favourite "activities" of a cat. Well, who wouldn't just laze,
while spending whole days at home. Therefore, it is better to be in posession of a solid,
big and comfy pillow. Once you have it you can just lie back,
take your time to observe flies and birds behind the window or simply do nothing.
By the time you have had enough of all those activities feel free to take a nap.
Why would you stand up if you can carelessly lie?
Opinions about SET Beds OTI+EMI + Pillow PADI
5.00
Number of opinions issued: 5
Click the rating to filter reviews